Measure the height of your ceiling. Don't forget to account for the height of your tree stand, tree topper and the area in which you plan to put your tree.

Choose a tree with a shape that fits where you will be placing it in your home. Some people prefer short fat trees, others long, skinny trees, still others prefer the "perfect" cone shaped tree. Whatever your preference it always saves a lot of time and aggravation by making sure ahead of time that the tree will fit!

Check tree for freshness and make sure that the tree has a fresh cut in the trunk of at least one inch.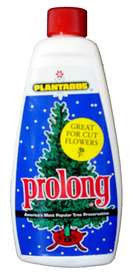 Get the tree into water as soon as possible after the fresh cut. Otherwise the trunk will scab over, and prevent the tree from absorbing water to maintain freshness throughout the holiday season. We also recommend using Prolong!

Continue to give the tree as much water as it needs. A tree will absorb as much as a gallon of water or more in the 24 hours after it is cut, and one or more quarts everyday after. Maintaining a steady water level prevents the needles from drying out and dropping off. Water will also keep the tree fragrant. Do not allow the water pan to empty or go below the tree base.

Limbs should be strong enough to hold ornaments and strings of lights and be sure to keep trees away from sources of heat (fireplaces, heaters, heat vents, direct sunlight). This can discolor your tree and shorten its lifespan, and it can also be extremely dangerous.

VERY IMPORTANT - Turn off tree lights when you go to bed or leave the house. Use only UL-approved electrical decorations and extension cords, and check to be sure no cords have frayed since you last used the lights. Never burn a tree in a fireplace or wood stove. Pine trees have a lot of sap which can flash and cause a chimney or house fire.

Safety First!